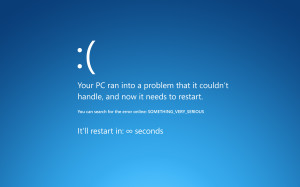 Symptoms :
Malfunctioning Hardware
Currently Installed Drivers (errors)
Exceeding safe temperature threshold
Windows Operating System is corrupt
Common Repairs:
Reinstall Windows
Replace malfunctioning hardware
What to do now:
Take a picture of the blue screen and document the highlighted information (See picture below)
Call 678PC to get it fixed.
If the diagnosis says it is software related, it can be fixed within 24 hours
If it is hardware related, the part will take 3-5 business days to ship. Once the part arrives, we will have it fixed within 24 hours.